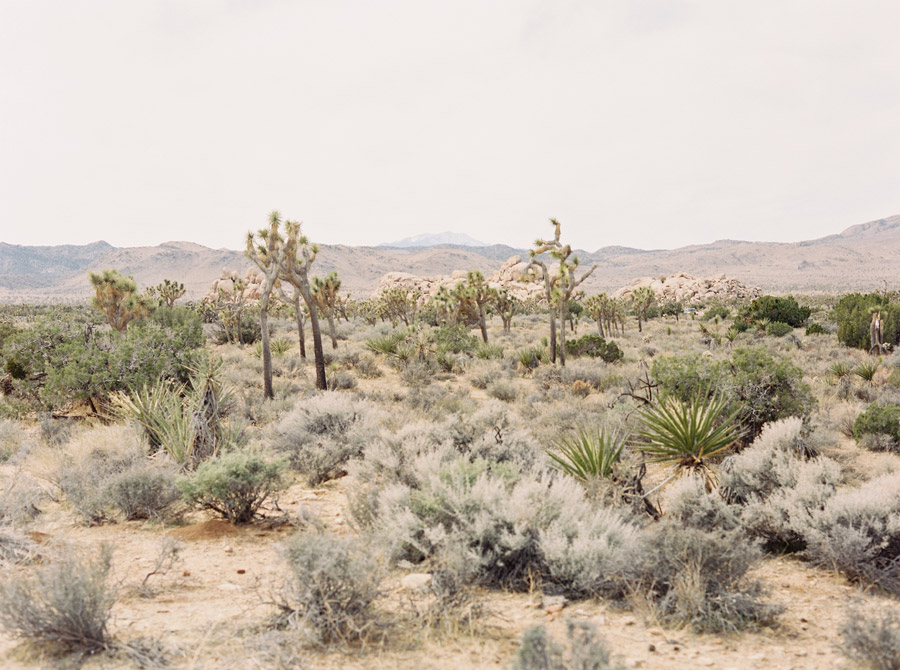 Joshua Tree, CA – Come for the Hike, Stay for the Art
After a long week of Palm Springs cocktails, late nights, and daytime recovering by the pool, I needed a respite. 
So, less than an hour's drive away, I headed to the tiny, dusty town of Joshua Tree, CA, an unincorporated town that sits on the outskirt of Joshua Tree National Park. I needed a more relaxing pace of hikes, reading, and hot tub sunsets over a desolate landscape. However, Joshua Tree, CA, is unlike the other unincorporated towns you drive by.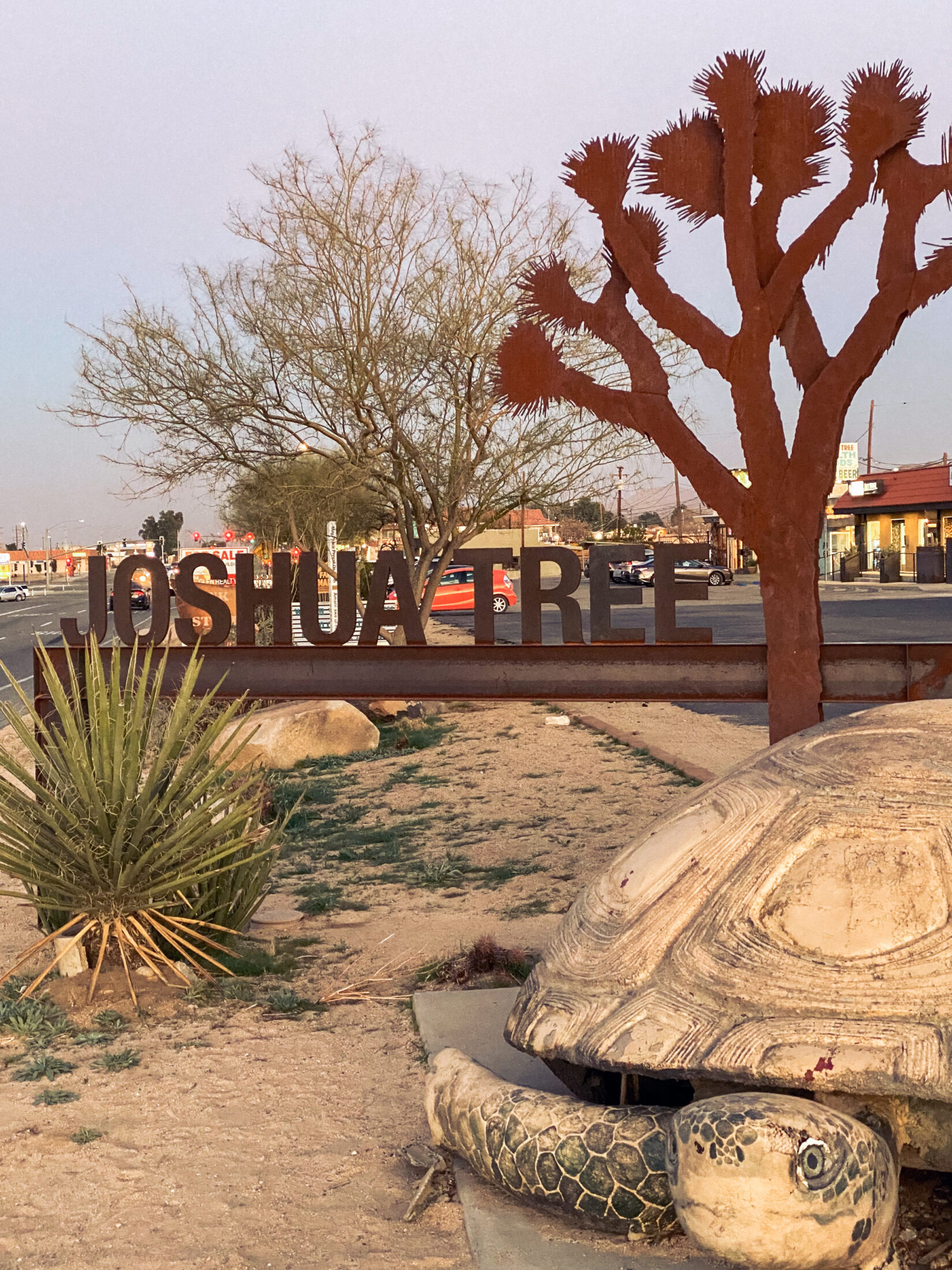 It hasn't been that long since a trip to the national park included only pit stops at bygone towns like Joshua Tree, CA.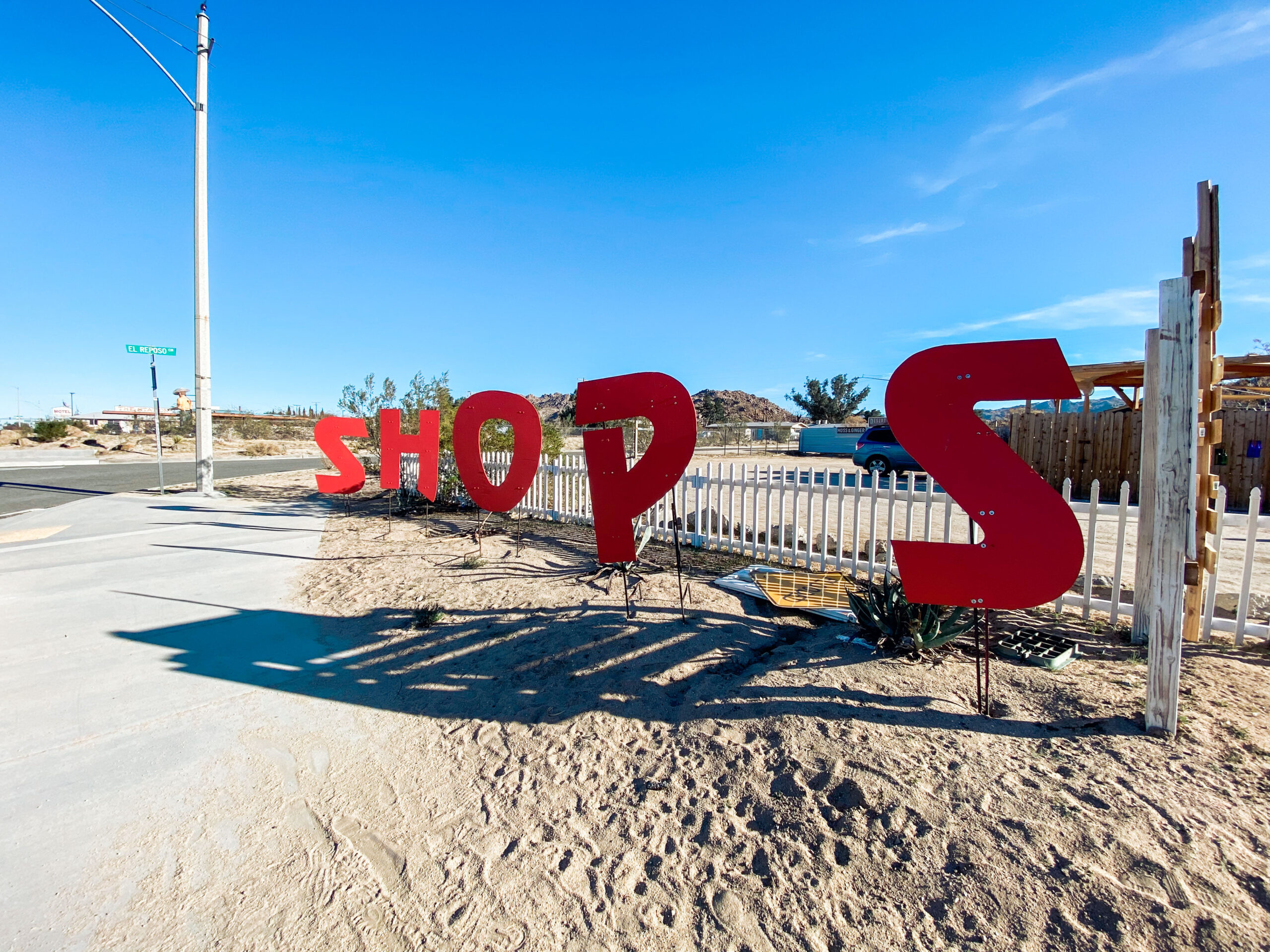 Tiny towns with little more than gas stations and mom-and-pop cafes with decades of yellow smoke filming the walls and pictures fading in sun-splintered frames. This includes Joshua Tree, CA. Things sure have changed. Joshua Tree, CA, is now an eclectic art destination.
To tap into the town's eccentric galleries and retail stores,
start at the beginning of Joshua Tree, on Twentynine Palms Hwy, and enter the boho-styled shop, Jen's Pirate Booty, designer clothes so out of place in this tiny town of 7000. Next door, you can pick up your own "Strange Ideas and Impure Thoughts" journal or a "Da Fuq" bird sticker amongst books and kitschy porcelain birds, bird paintings, and bird pens in the store whimsically named Mincing Mockingbirds (update, the shop is now closed, but there is an online store where you can buy these whimsy products.) https://www.mincingmockingbird.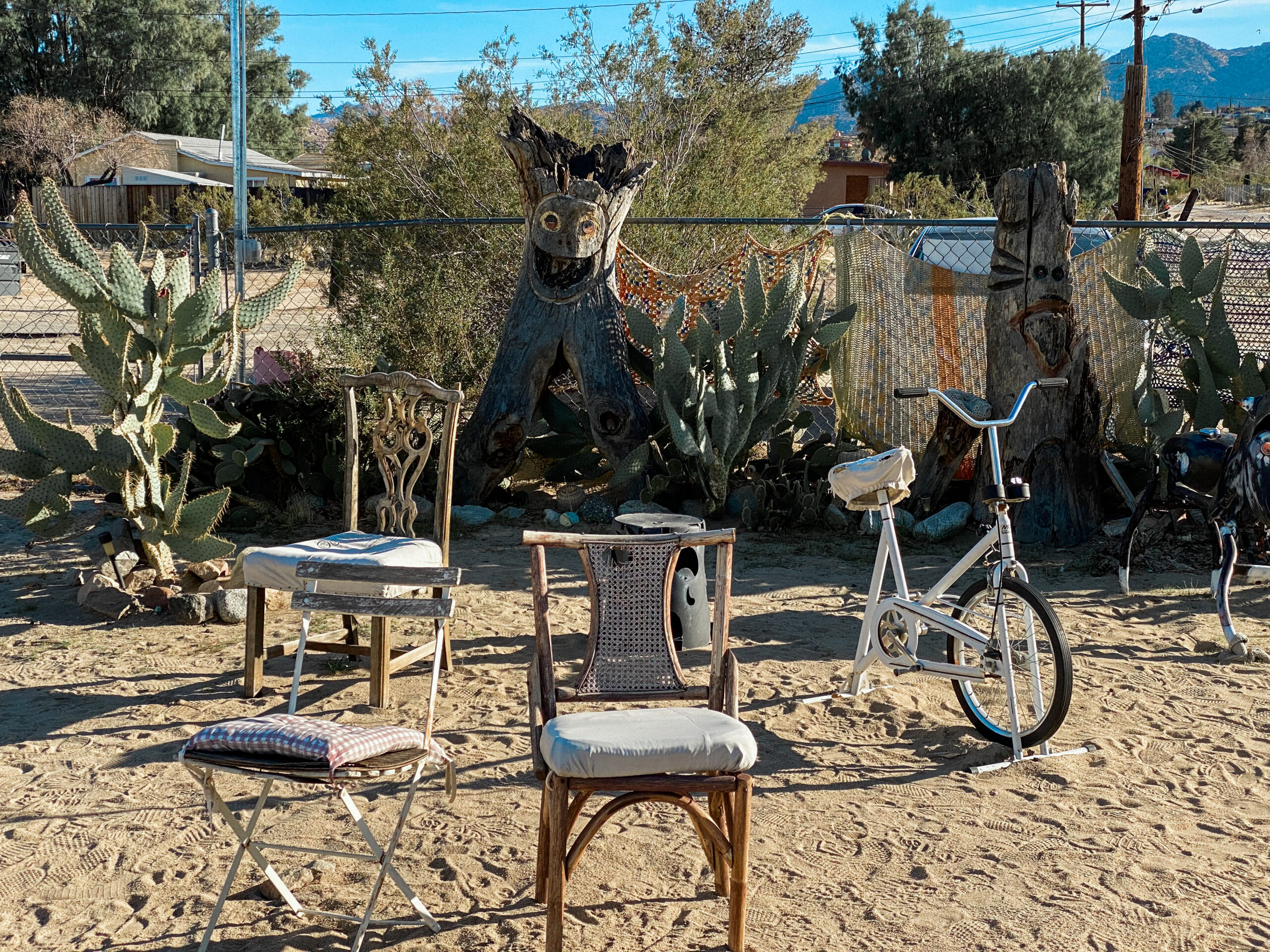 Further down, you'll see a handwritten sign in red letters, the World Famous Crochet Museum, with an arrow pointing down a long alleyway.
Vining plants cover the pathway walls, unusually lush in this barren town. The end of the shadowed path opens up to bright, stark light and the World Famous Crochet Museum, the size of the tiniest of tiny houses. Wall-to-wall crocheted cats and big-eared poodles line the walls, and googly-eyed vegetables hang from the ceiling, including crocheted corn with yellow yarn and more plastic jiggly eyes. Crocheted stuffed pieces cover every inch of the World Famous Crochet Museum.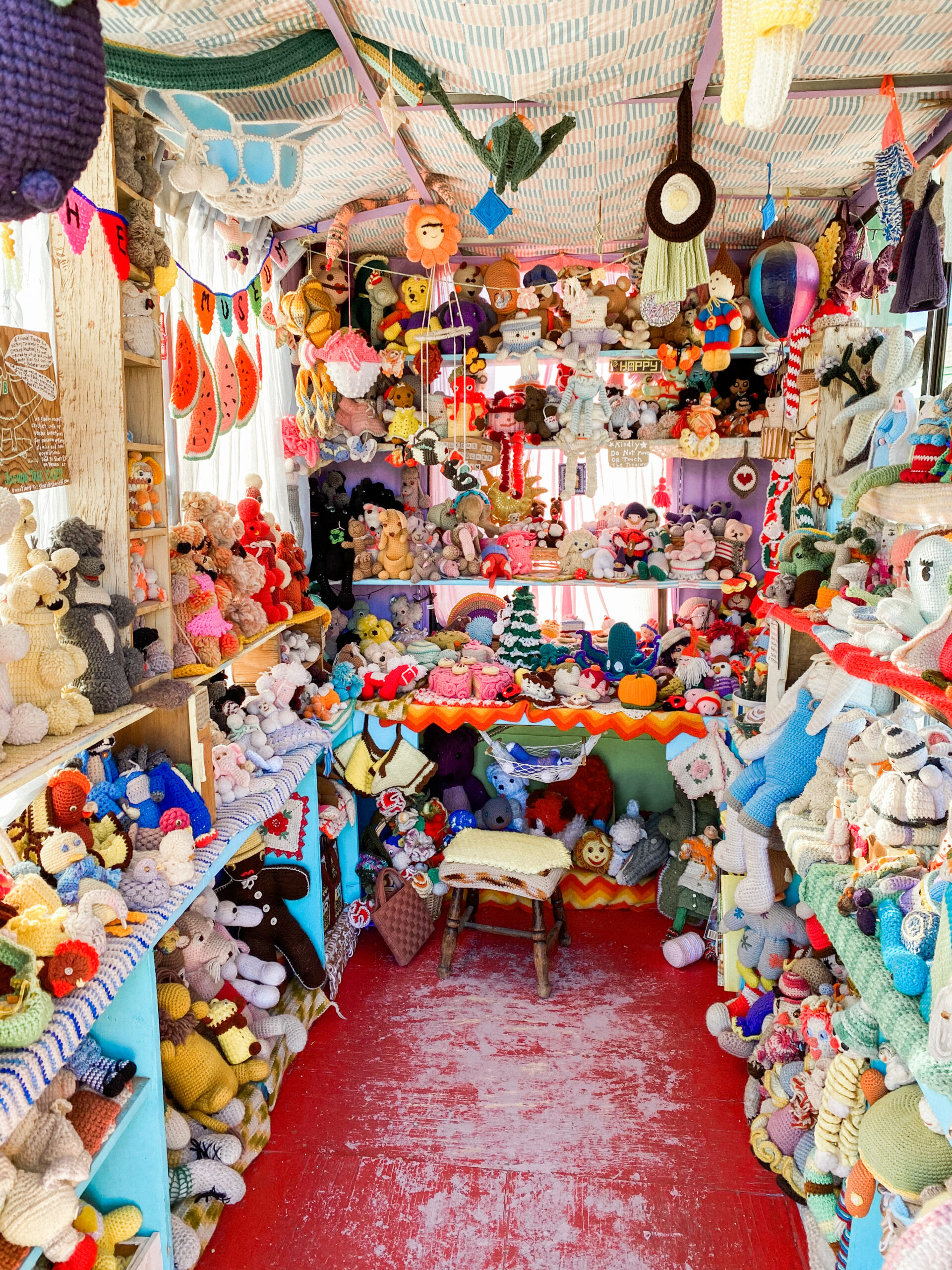 I pass one of several art galleries; large banana portraits hang in the windows.
Next door is the Beauty Bubble Salon and Museum, with vintage beauty paraphernalia called "hair-aphernalia,"
I imagine my hair being blown out with a pink vintage blowdryer while sitting in a chartreuse 1950s hairstylist chair. If only I had made an appointment.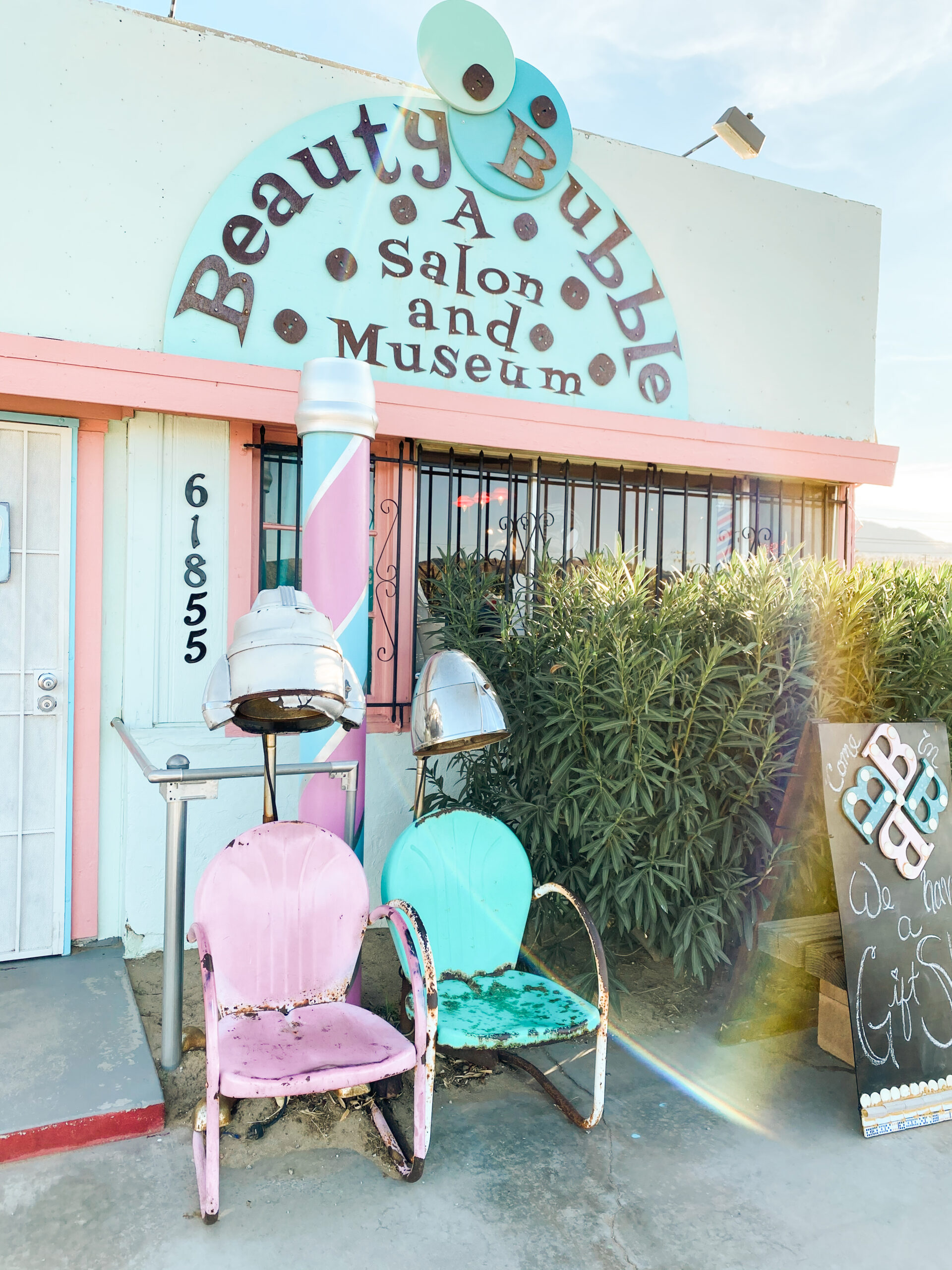 Hey There Projects is an art gallery showcasing local and established artists in all mediums. Besides selling art, you can also purchase artsy stickers, t-shirts, and books. The art is as quirky as the town.
A 20-foot-tall cowboy figurine named "Big Josh" looms imposingly over an old gas station fashioned into The Station Joshua Tree gift shop.
The owners found this Paul Bunyan-esque statue at a swap meet. In addition, the Station Joshua Tree has eclectic details everywhere you look, from the cinder block back patio embellished with red and orange metal gas cans to the lines of abandoned rusty mailboxes in the front. Designed by artists, this is where I bought my Joshua Tree souvenir t-shirt.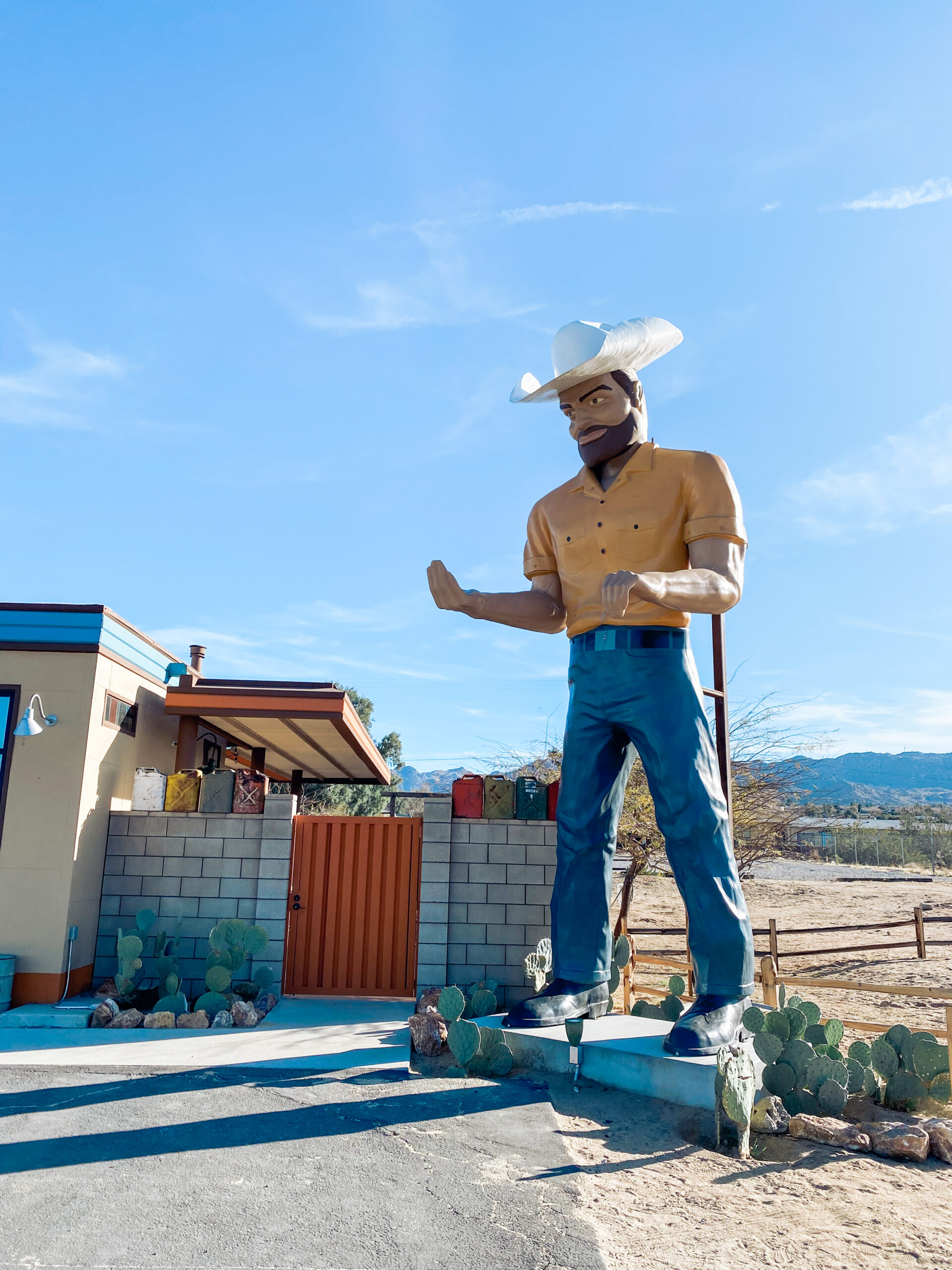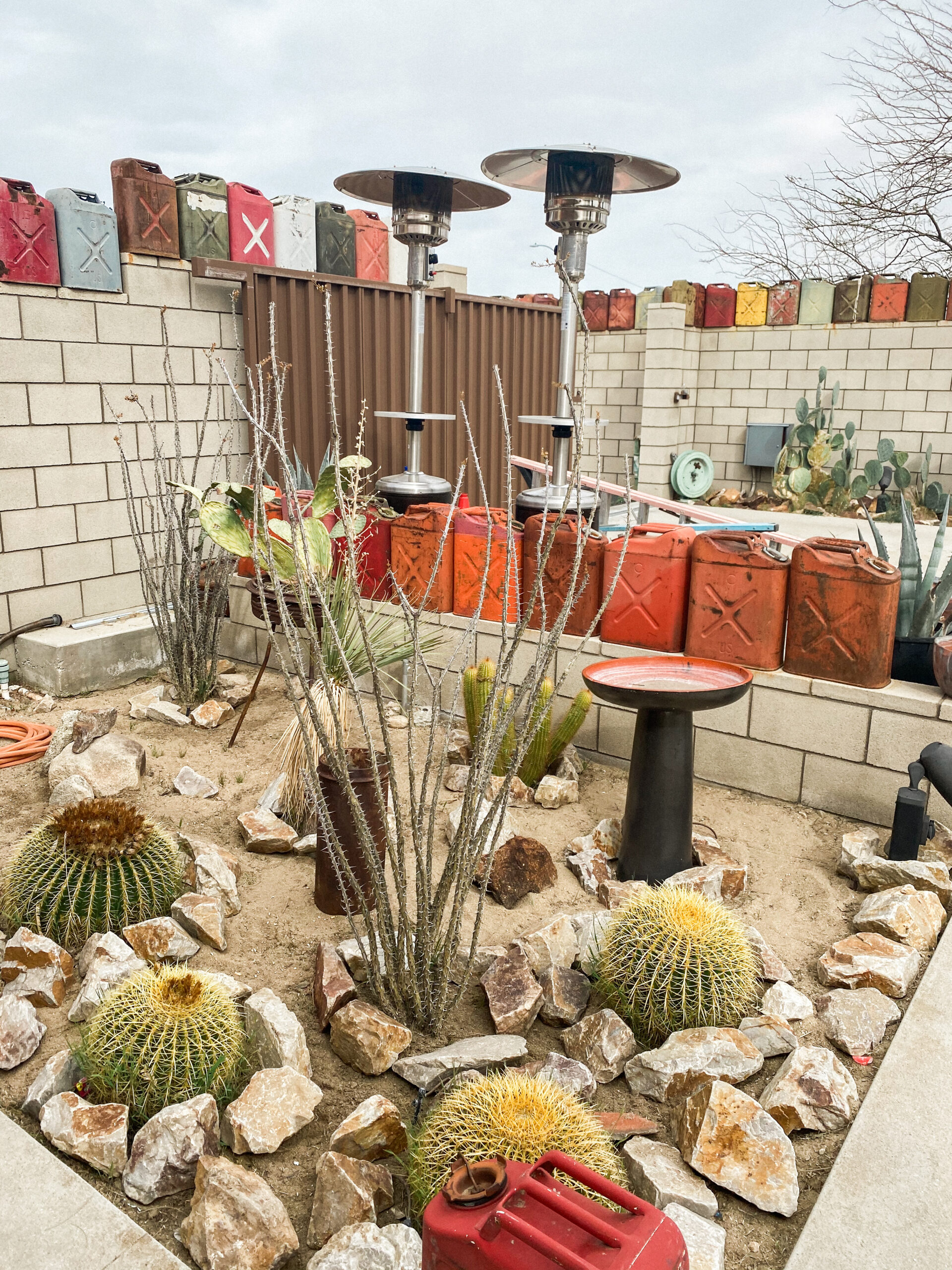 A ceramic duck resting on the ground outside the museum sits in the same yard, embellished with necklaces and leather twine, "Welcome to Art Queen" hand-painted on its chest.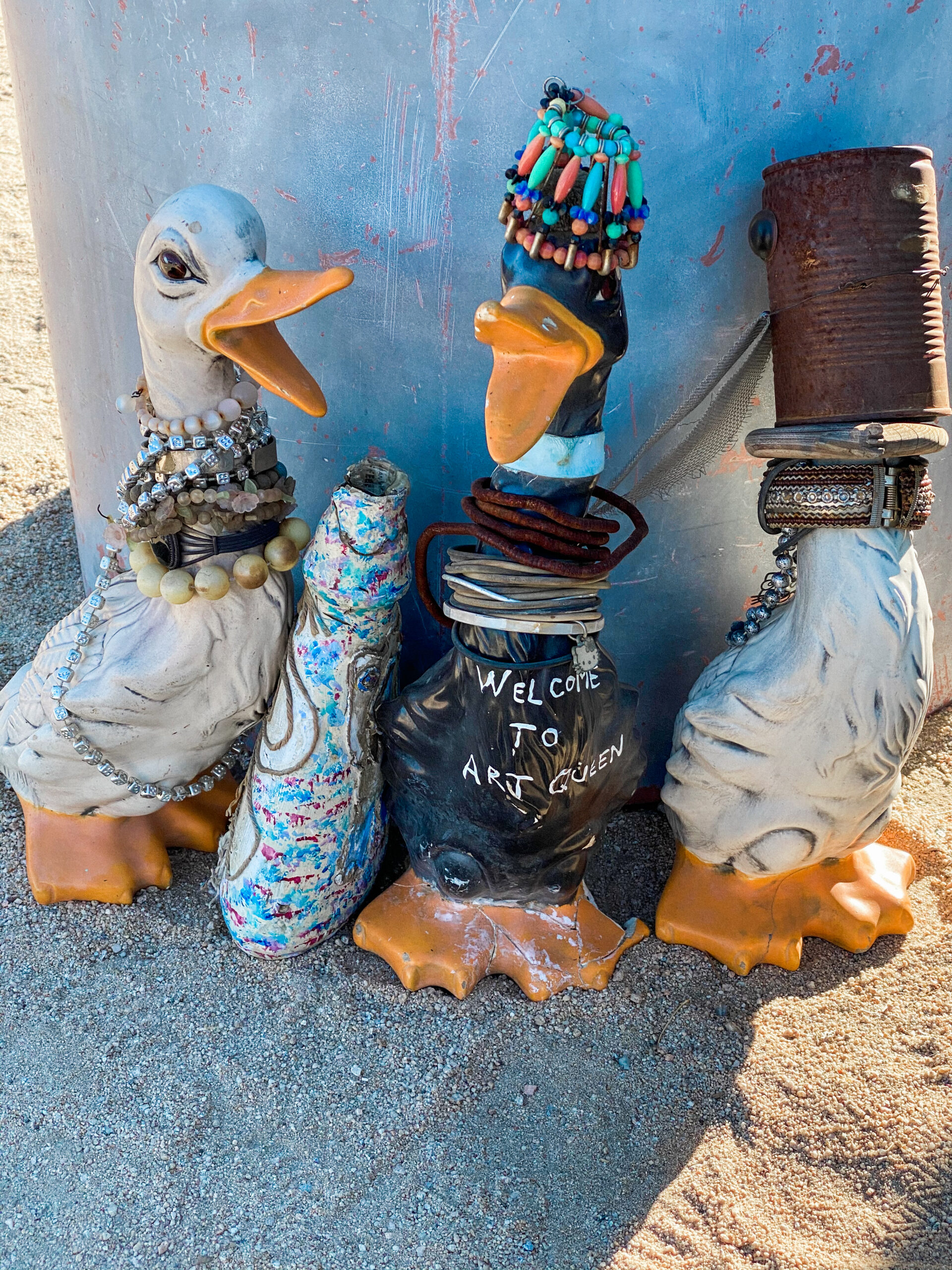 Further ahead, what looks to be straight out of the movie Dune, sits a tall steel contraption decked out with large disco balls. You can climb up through the trap door into the glass room at the top. Stifled hotness and views of the stark landscape, this is where burning man installations come to die.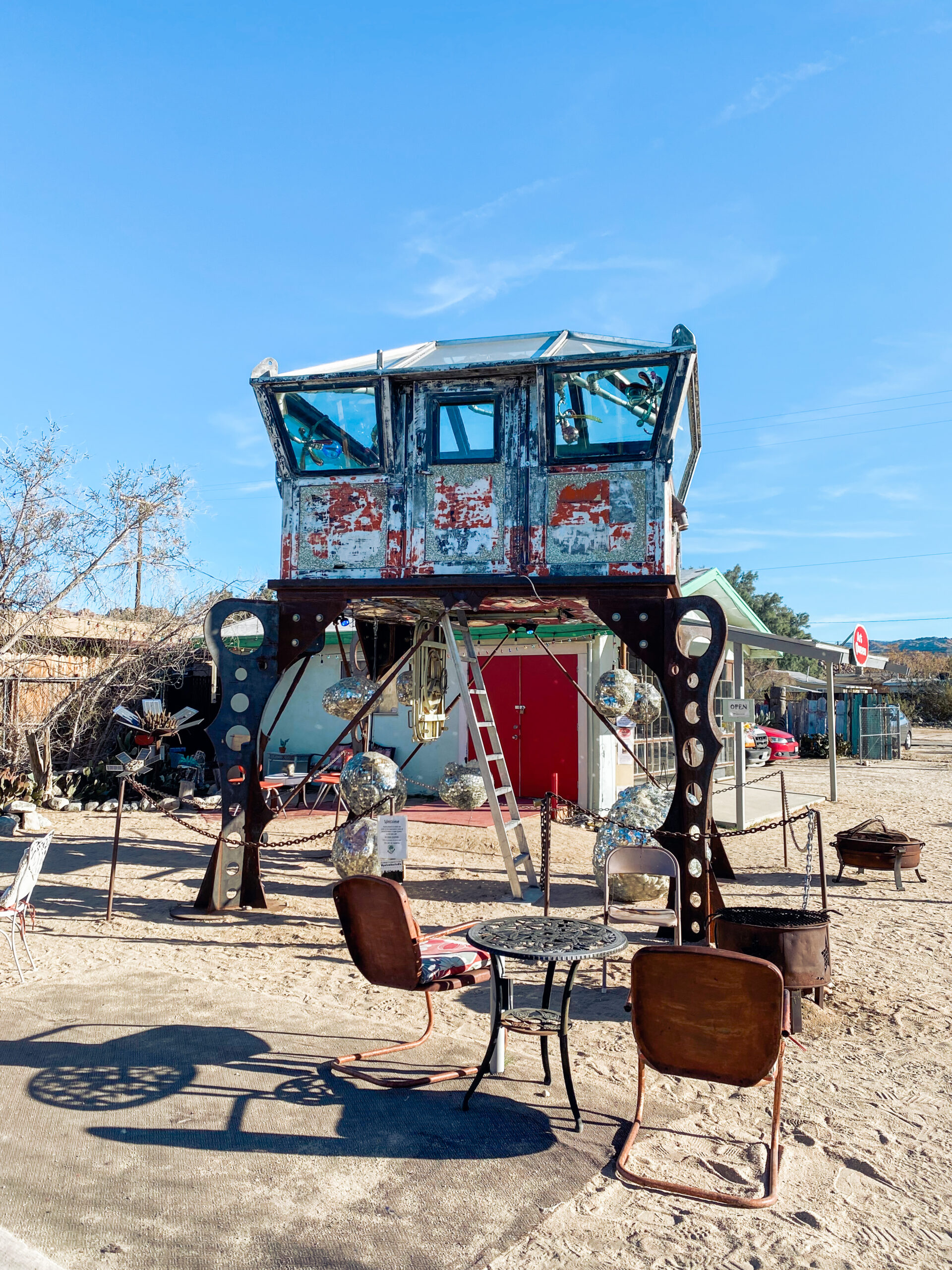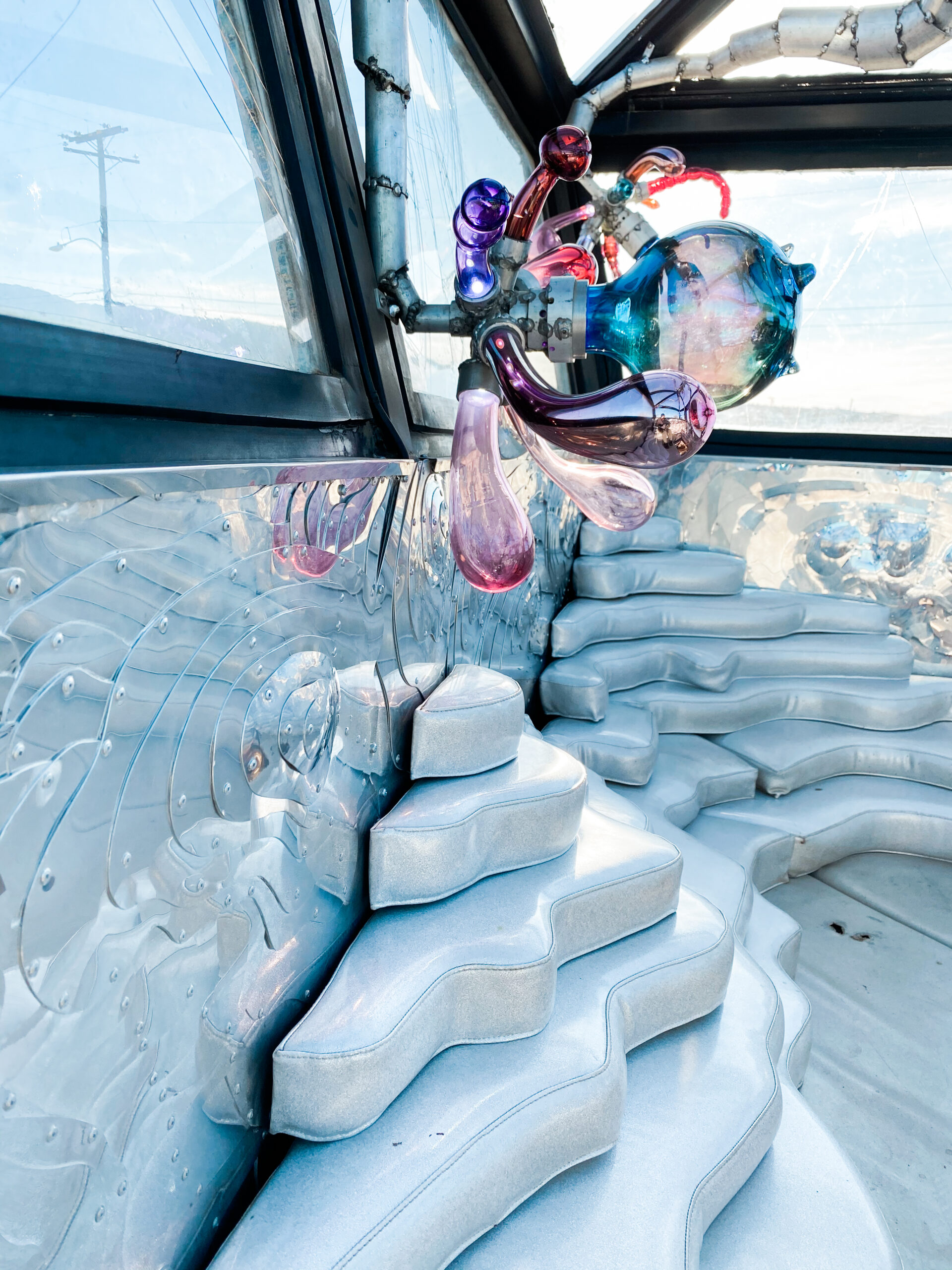 Joshua Tree Saloon sits at the end of the last block, established in the 80s with an old western facade front, a highlight of this town years ago, but now out of place with the eclectic, artsy, three-block "city" Joshua Tree has become. Nevertheless, this is the place to stop for beers, dancing, and their Signature Mineshaft burger oozing with 1000 Island dressing and fries.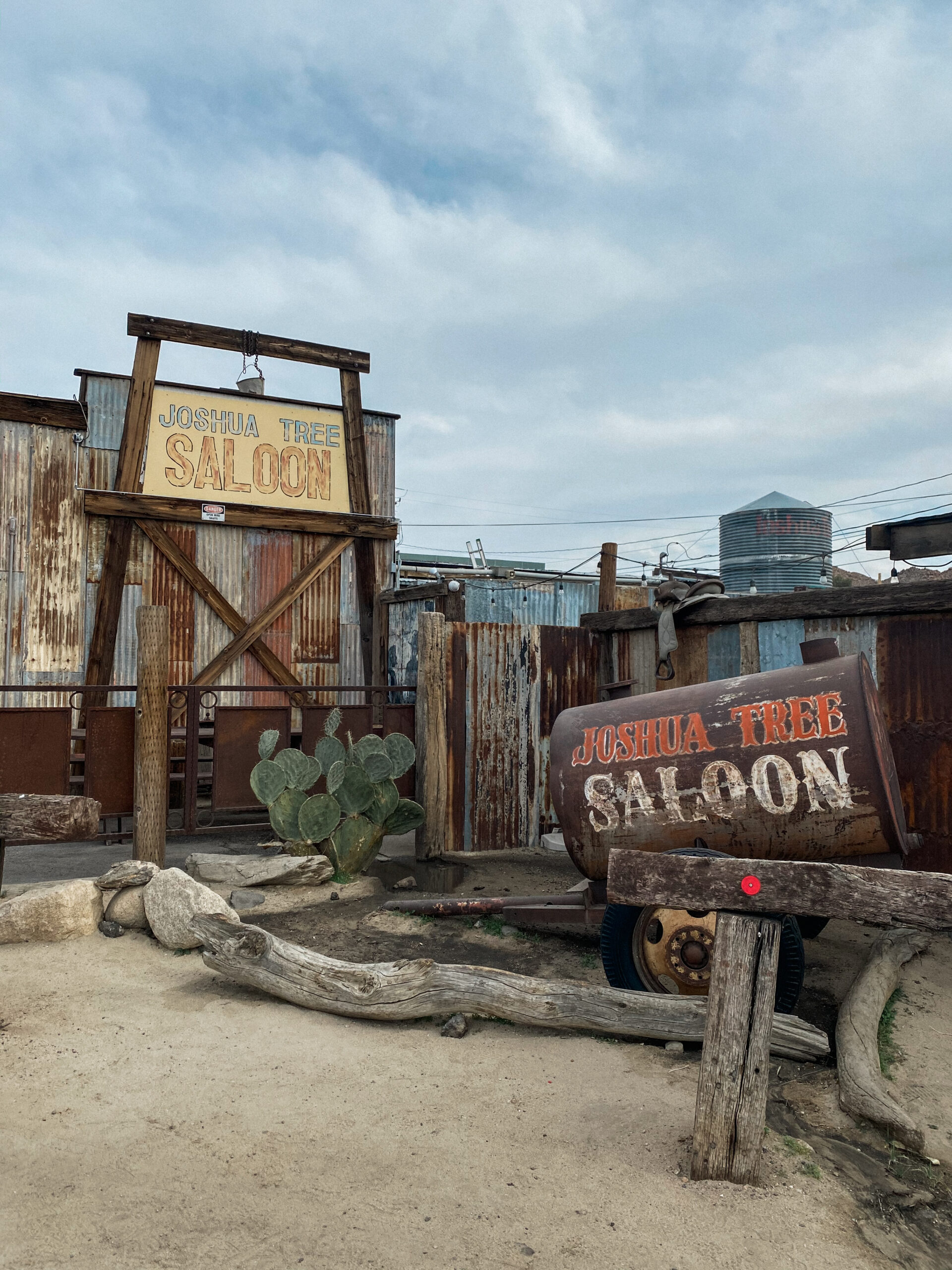 There are plenty of Airbnb remodels, quintessential in their bohemian styles. Enjoy expanse views of the desert and the jackrabbits that roam at night from the galvanized steel cowboy pools that every rental seems to have.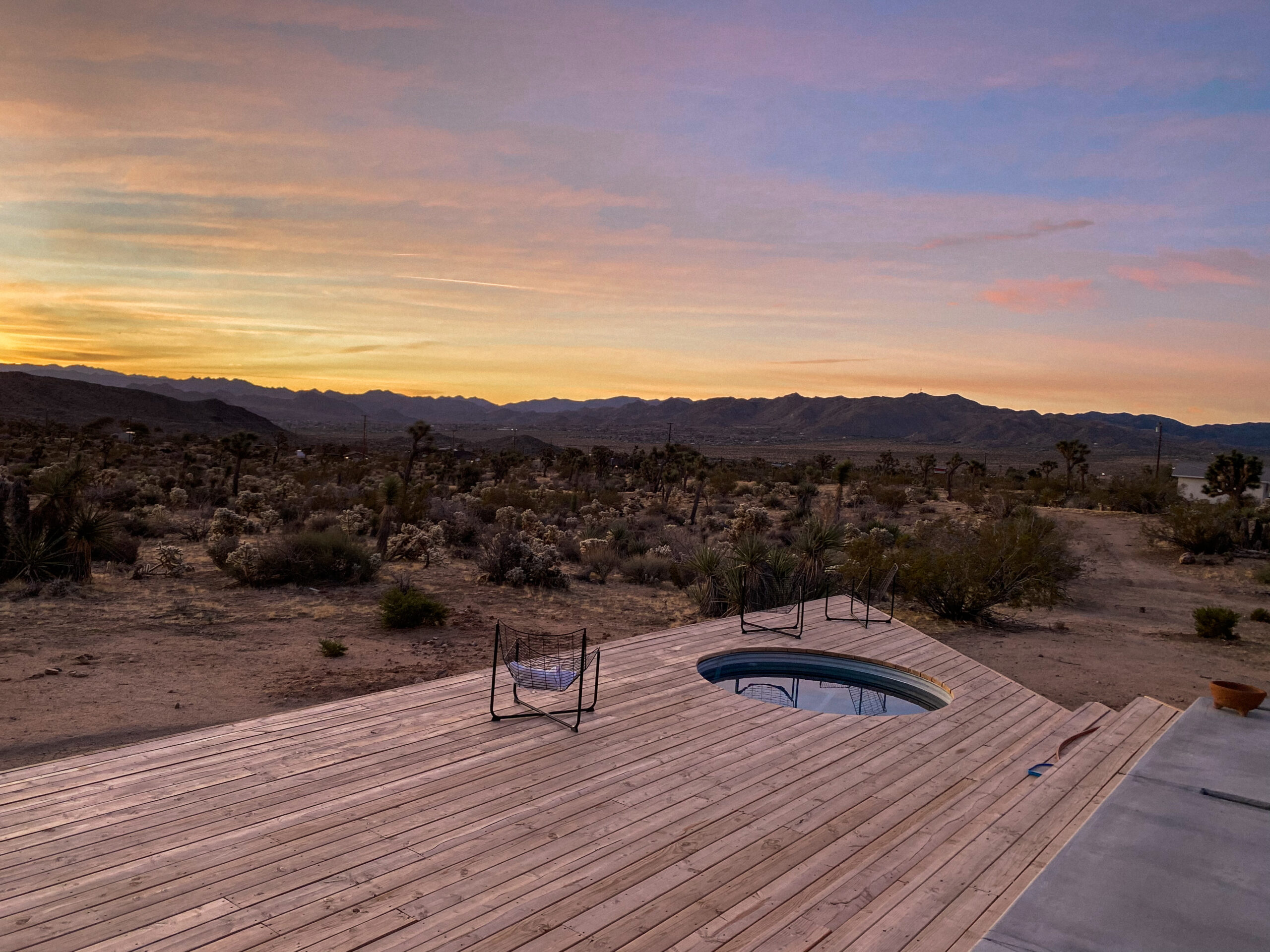 Joshua Tree, CA, is no longer a pit stop but a destination in its own right. Come for the hike. Stay for the art.